Tricia got the first chance to share her SF memories, and now its my turn! As soon as Tricia surprised me with plane tickets for San Francisco, my mind was racing. The west coast is uncharted territory for me, especially as far as food goes. And given San Francisco's reputation as an eating Mecca, I knew that I had research to do. Of course, I am always on the hunt for unique and interesting places, and one of the first to catch my eye was Spices! restaurant in the Richmond area of San Fran. Famed chef Chris Constantino had mentioned this eatery on the best thing I ever ate, and I was immediately intrigued. Authentic Sichuan food? Reputed to be extraordinarily spicy and provide plenty of ma la (麻辣) tingle? How could this not be an amazing place?
Let me level with you: Spices! is not glamorous. Some might even describe it as a hole in the wall. The trip to get there involved a cross town bus trip of about 25 minutes from the Ferry Building, and our drop off point looked quite desolate. The restaurant itself is surrounded by some nondescript Chinese stores and minimarts. But the food delivered on all of its promises. Interestingly, the food is not purely in the Chengdu-style, as most Sichuan restaurants tend to be (Chengdu is the largest city in the Sichuan province). Instead, it also included Sichuan-style dishes as they are prepared in Taiwan and Shanghai where Sichuan food is immensely popular but given a unique local flair. We had spicy Sichuan-style Udon noodles, Chinese bacon (sliced thin and stir fried in a spicy sauce), and some excellent ume wine (Japanese plum). And finally, the kicker: we tried stinky tofu! I think this was stinky tofu in its mildest form – stinky tofu is made by fermenting tofu in a milk-brine (yum?!), and in Taiwan, it can get quite pungent (see Andrew Zimmern's Bizarre Foods Taiwan episode). Additionally, we had the stinky stuff deep-fried, so it was not as pervasive as it might be. Though not my favorite, I did find the texture mildly addictive, and we had no issues polishing off our portion. Still, I feel bad for anyone that came within 10 feet of our breath, given that the stinky tofu was served with a sauce that had about two tablespoons of raw garlic! I'm proud to say that I easily had a higher threshold for stinky tofu than my fellow Chinese World Taster Tricia!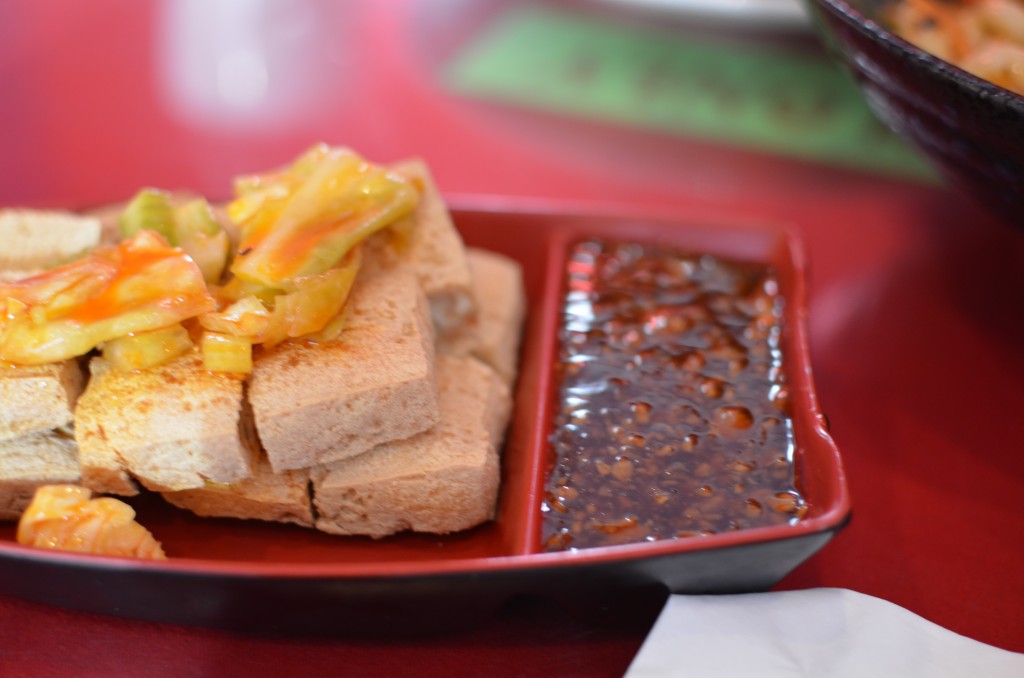 Spices! was an adventure, and truth be told, a tough act to follow. However, one of our next destinations had the necessary credentials. Mission Chinese Food (logically, in the Mission Neighborhood of SF) was a place I have wanted to try for YEARS. Michelin rated, praised by GQ's Alan Richman excessively – Mission Chinese is not something that needs advertising. Though they just opened an NYC outpost, we wanted to try the original. Mission Chinese is a strange concept – it is housed inside another Chinese restaurant called Lung Shan. Lung Shan gives them the space to use during certain hours though. Still, when you visit this now world-famous place, there is no sign on the door, just the yellow awning for Lung Shan. This peculiar setup is very much a microcosm of the eating experience. We fortunately showed up exactly at opening (11:30 AM), and were among the first 5 parties to arrive. We were told to sign in on a clipboard. Quite soon, a host came out and began seating parties in the order we signed in. The décor inside was a Chinese parody: huge dragon hanging from the ceiling and old propaganda-style images of Mao Zedong along the walls.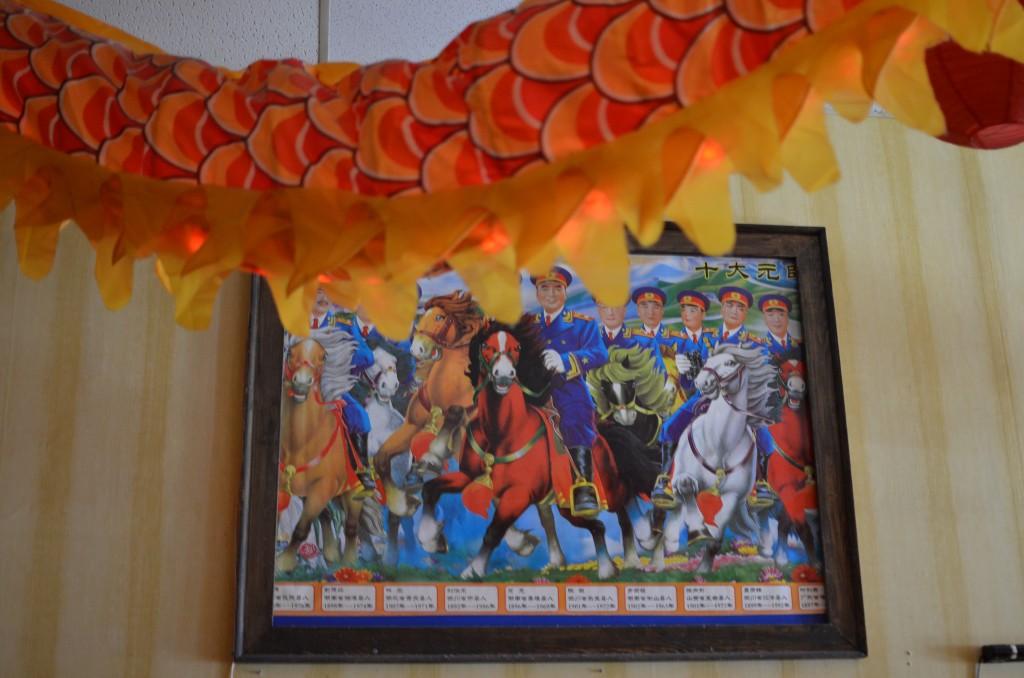 The service was quick and the food was as good as the hype. For those that don't know, Mission Chinese does not really serve Chinese; their menu might loosely be classified as fusion food, but mainly it is a combination of great ingredients, ingenious innovation, and some classic Asian cooking techniques. We had the salt cod fried rice (below), a bowl of cold chili-pickled long beans, and then the showstopper for us: tea-smoked eel, which was served wrapped up in a fresh rice noodle (it is the roll shown on the front page of worldtasters.net right now). Below you can see the delicious fried rice!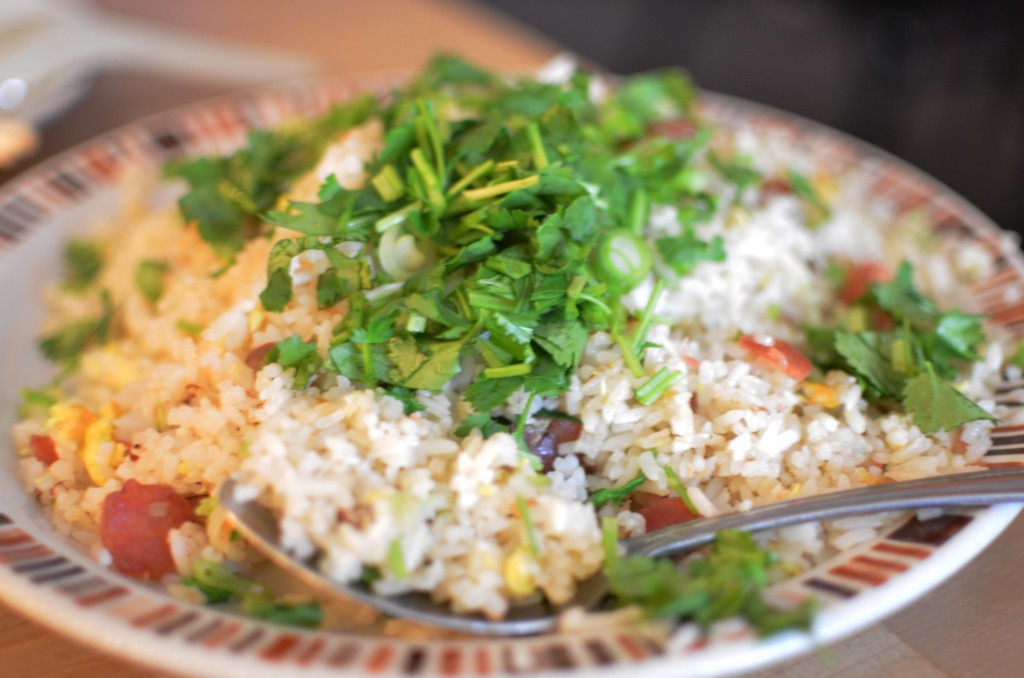 We walked all around San Francisco. Tricia was wearing a pedometer for a work-related challenge, and we found that we had actually walked at least 7 miles each day! We saw as much of the city as we could in 5 days, spending time in Golden Gate Park, Richmond, Chinatown, the financial district, the Tenderloin, Mission, Japantown, Haight-Ashbury, and Soma. We would like to think we did more than the average tourist! Still, one VERY touristy pleasure that we had to indulge in was a cable car ride.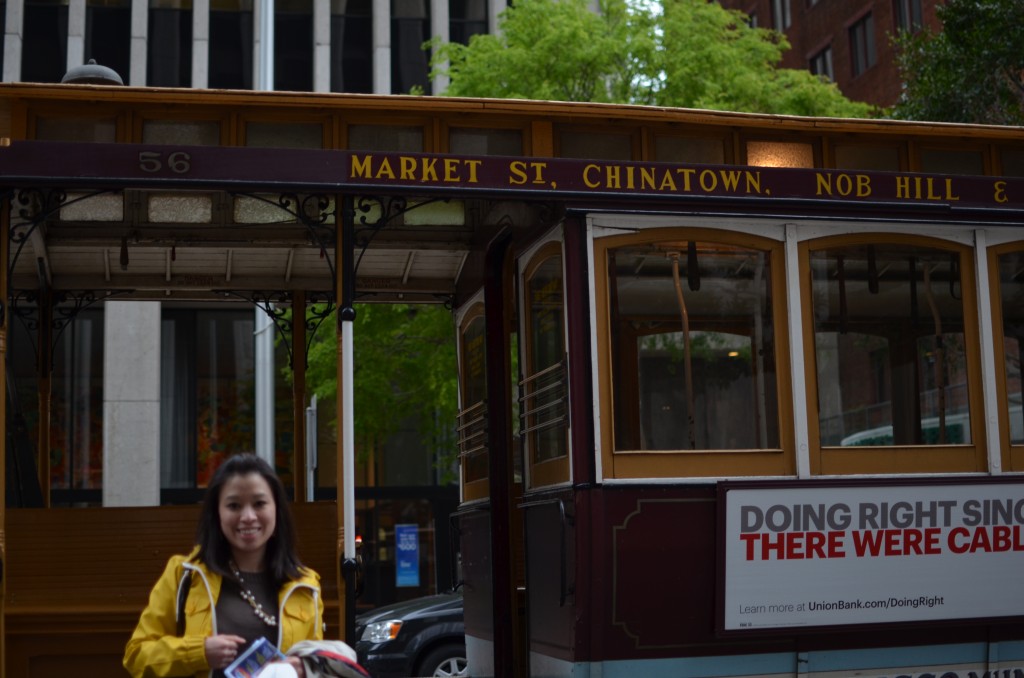 We actually rode several cable cars along their whole route, and saw many of the beautiful views along the rolling streets of the city. Our favorite was the California Street line, which we got beyond Nob Hill and rode all the way to Chinatown.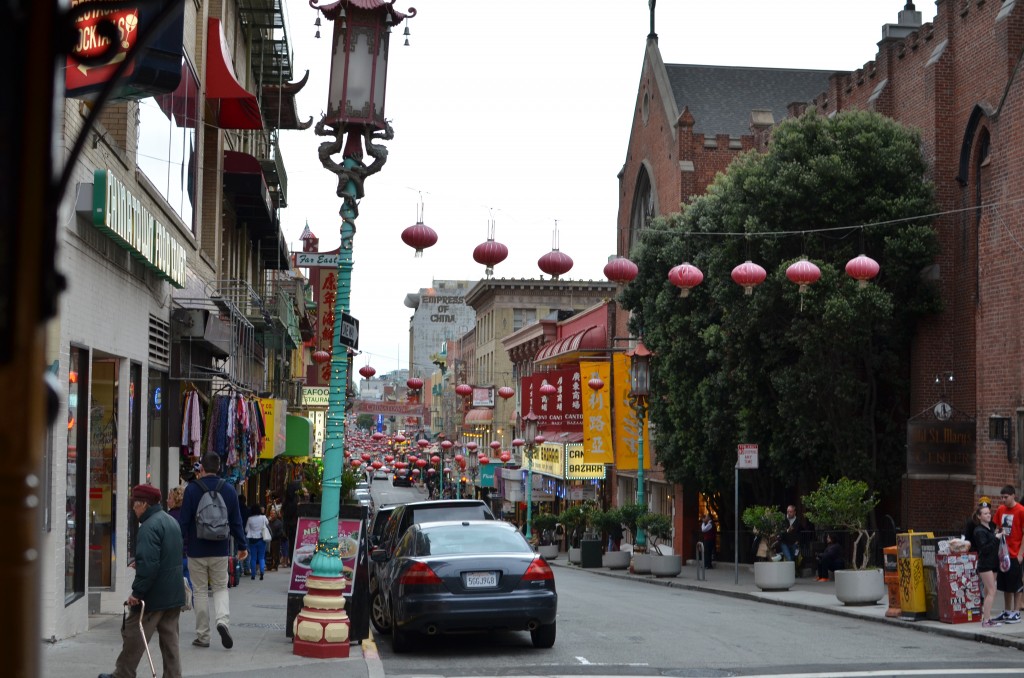 Chinatown happened to be right across the street from our hotel, so we explored it comprehensively. It is the first Chinatown in the USA, and it is one of the largest. We had a lot of fun in Chinatown, and found many items that we have been unable to get even in Flushing Chinatown, including authentic Mooncake molds and fat choi, a famous vegetable in Chinese cooking that resembles hair! We also found many great bakeries and bubble tea locations. One of our favorites was a place called Soufflé Café. Not ironically, this small dessert shop specialized in soufflé, but they also had some great Taiwanese shaved ice, bubble tea and other dessert options. Their soufflés were made in the traditional French way, but they came in many Asian-favored flavors like red bean and sesame. They made their soufflés to order, and Tricia and I decided to have a purple yam (taro) soufflé. It was hot, eggy, sweet, and delicious!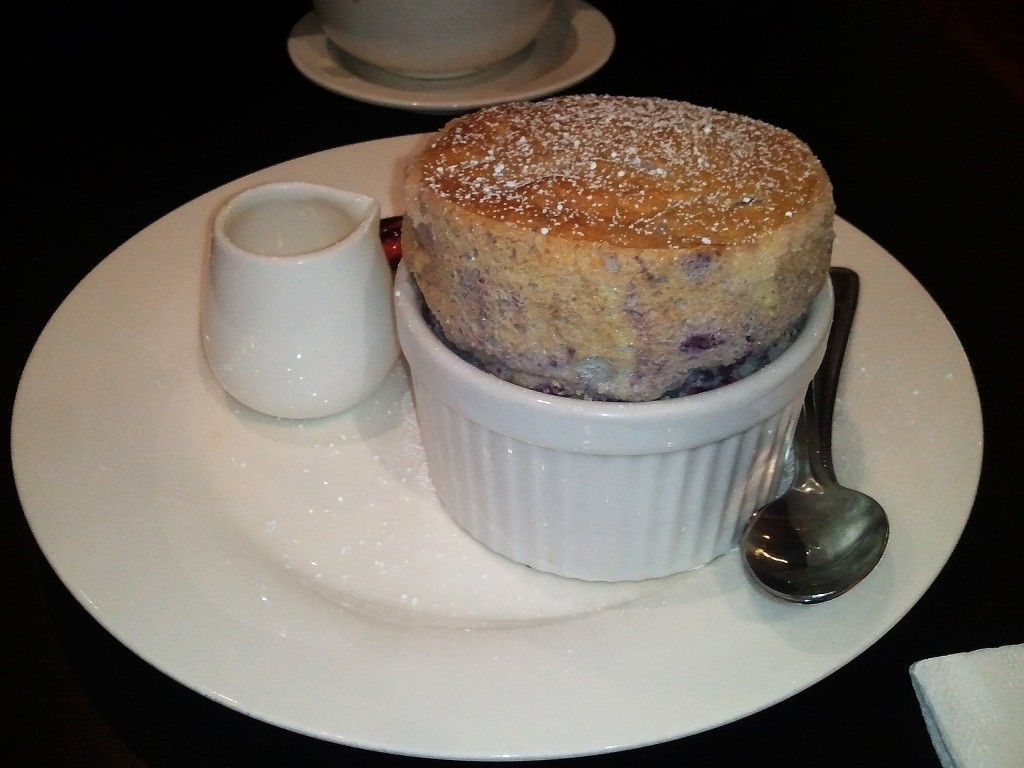 To my surprise, this was Tricia's first soufflé, but as I predicted, she found a new favorite – that girl loves anything with a lot of eggs. Maybe the best part of Soufflé Café is that it is open late, until 2 AM weekdays and 3 AM on the weekends. Unfortunately, as I sit here on the East Coast typing this, that does ME no good!
San Francisco was an unforgettable trip. It is a beautiful city with a lot of character. It is definitely a place I'd like to visit again. For foodies, this is a place you MUST go. Though it is much smaller, San Francisco has an eating scene on par with any of the top cities in the world. So glad that we got to taste it!