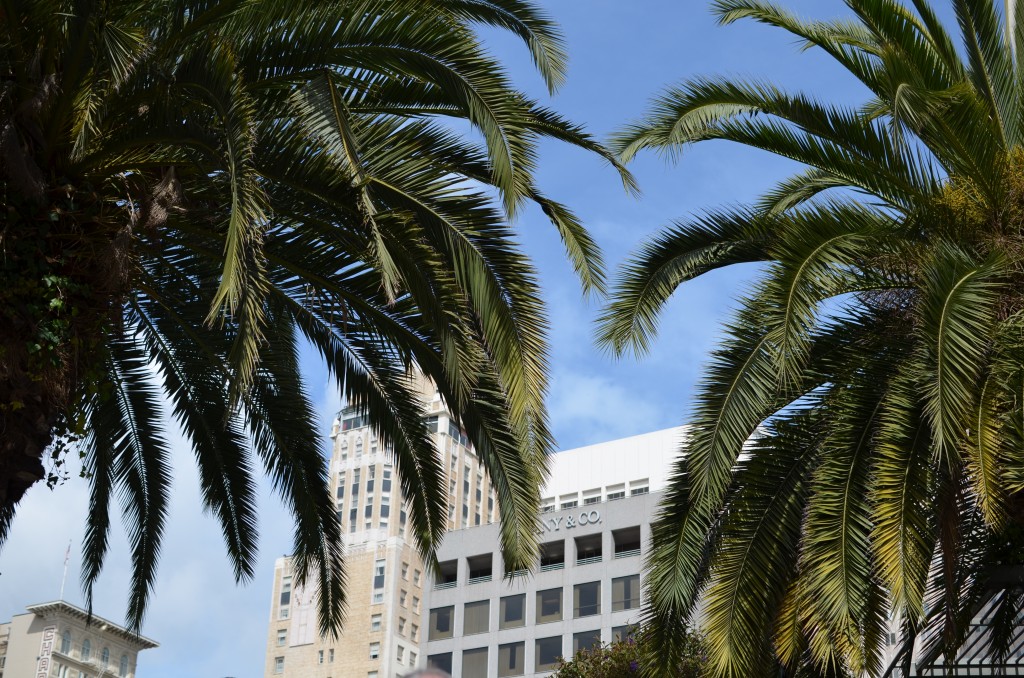 Tricia here! We haven't gone on a vacation in awhile so this trip was long overdue. As a gift, I decided to take Siddharth to San Francisco, one of the top foodie paradises on the planet. Siddharth had done a lot of research previously and I figured it was time to see the real deal.To maximize our time on the West coast, we took the earliest flight from Philly. That way we would land around lunch time and dive right in on our food-adventure. Unfortunately by the time we arrived in SFO, we were disappointed to hear that our checked in bag had decided to not travel with us, but head over to Chicago (don't fly United Airlines, you will lose your bags and/or luggage)!
Without our bag, we decided to just head to the hotel and check in. I had chosen the Hilton in the Financial District – mere steps away from Chinatown (bonus!). We quickly found out how to use the BART transportation, and we were able to get to our hotel from the airport in about half an hour.
We got to our hotel and were greeted by the friendly staff. Because the hotel was so close to Chinatown, the lobby and interiors were decorated with a lot of Asian art and red accents. The hotel room was small (similar size to what you would find in Manhattan) but the view was exceptional, overlooking all of Chinatown.
As we walked around in the vicinity of the hotel (hoping the bags would be delivered soon!), we saw several potential restaurants possible for lunch right there in the Financial District. Because of the many choices, we were already excited. Although the sun didn't appear that day, the weather was cool and breezy, something different from our winter-mix in Philly.
After a quick freshening up, we decided to head out and get our much anticipated lunch. We were anticipating the delivery of our bag so we didn't go too far from the hotel. Luckily we found a Vietnamese sandwich shop, Latte Express, just next door. Bahn mi anyone? Our first meal in SF was not a disappointment, though it was far from glamorous! The sandwich shop was run by a single person, but she was remarkably efficient. By the time we arrived, there was already a line of people leaving from work to get a late lunch. The sandwich shop had at least 10 varieties of Bahn mi, all with the traditional jalepenos, pickled vegetables and cilantro. Aside from the condiments, the important piece was the bread they used which was extra soft in the middle and crunchy on the outside. Siddharth ordered the grilled pork while I ventured to the deluxe meat sandwich that composed of ham, steamed pork and pate. Siddharth also ordered a Vietnamese iced coffee which was super strong, something you can't find at your ordinary coffee shop. After such a long flight and the stress of not having our stuff, we were happy to have had a great late lunch.
After lunch, we decided to walk around Chinatown. After just a few hours of walking, we realized exploring Chinatown required more than a single afternoon. There were an abundance of shops selling traditional Chinese garments, cookware, spices and teas. There were probably tea shops situated on every block, offering free tea tasting. We hopped into one tea shop that was in the middle of a tea tasting and learned a great deal on the different versions of oolong, gingseng and green teas. The shopkeeper was an animated character and gave us any tea we wanted to try (I think he was excited to serve two people who had a decent knowledge of tea!). He was able to tell us the backstory of how each tea plant was picked and roasted and even gave us tips as to how to prepare the tea such that the proper taste came through. We left with some ginseng infused oolong tea and a bag of fragrant Siberian Rose buds for brewing at home.
Several hours passed, and our bag had not arrived. At this point, it was getting late (at least it felt late with the time difference) and dinner was calling. Not having soap, makeup, or anything to get pretty for dinner, we decided to go somewhere nearby and unfussy. One close by district was Nob Hill. The trek to Nob Hill, as one can tell, was full of hills and beautiful residential townhouses and the Cable Car Museum. During what seemed to be an  endless walk uphill, we were mesmerized by the brilliant architecture of the small cathedrals and apartment buildings.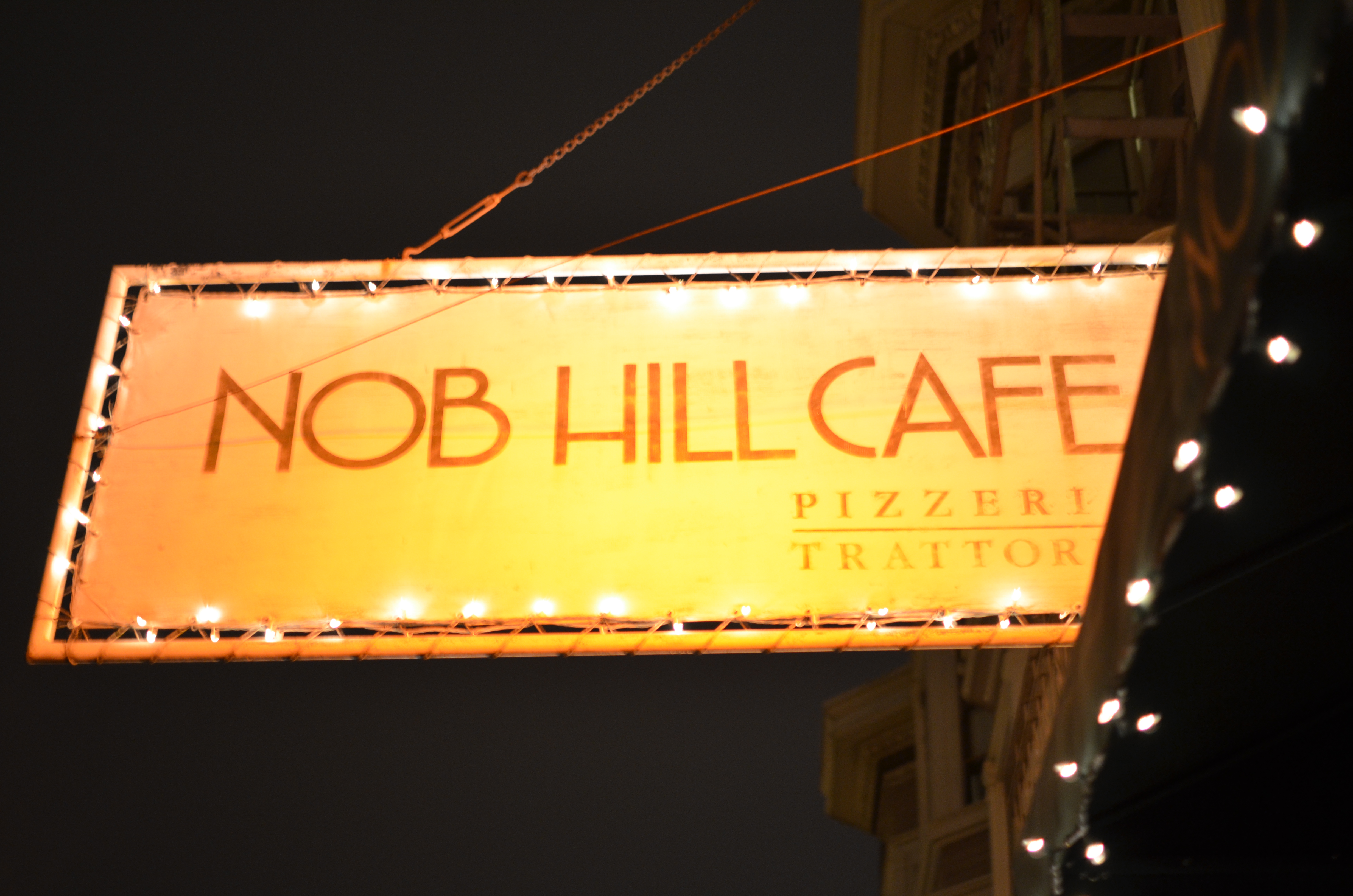 I had read several reviews on a local trattoria, Nob Hill Cafe – all were positive. Nob Hill was known for their traditional Italian pasta dishes and their pizza of the day. We arrived at the restaurant anticipating a 30 minute wait. The hostess gave us a small table and we ordered some white wine outside of the restaurant. We looked out and saw a beautifully quiet, but well lit neighborhood.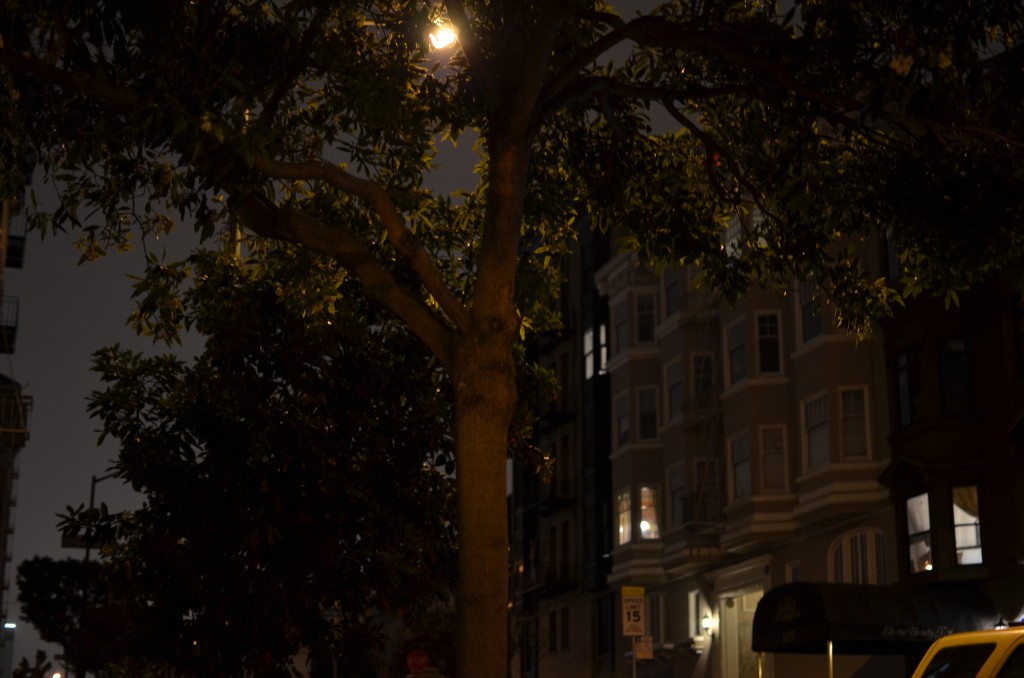 Despite its small size, the restaurant was packed with people, but it had an airy and unsuffocated atmosphere. The restaurant certainly had a romantic and rustic feel: everything from the dim lighting, paintings of the Italian landscape on the walls and the smell of butter and pesto.
Everything on the menu sounded fresh. We shared two appetizers and one entree. Our server was extremely nice and very attentive. We ordered the prosciutto wrapped around a ripe cantaloupe, as well as the calamari salad that was full of leafy greens, capers, white Tuscan beans and generous helping of citrus flavor.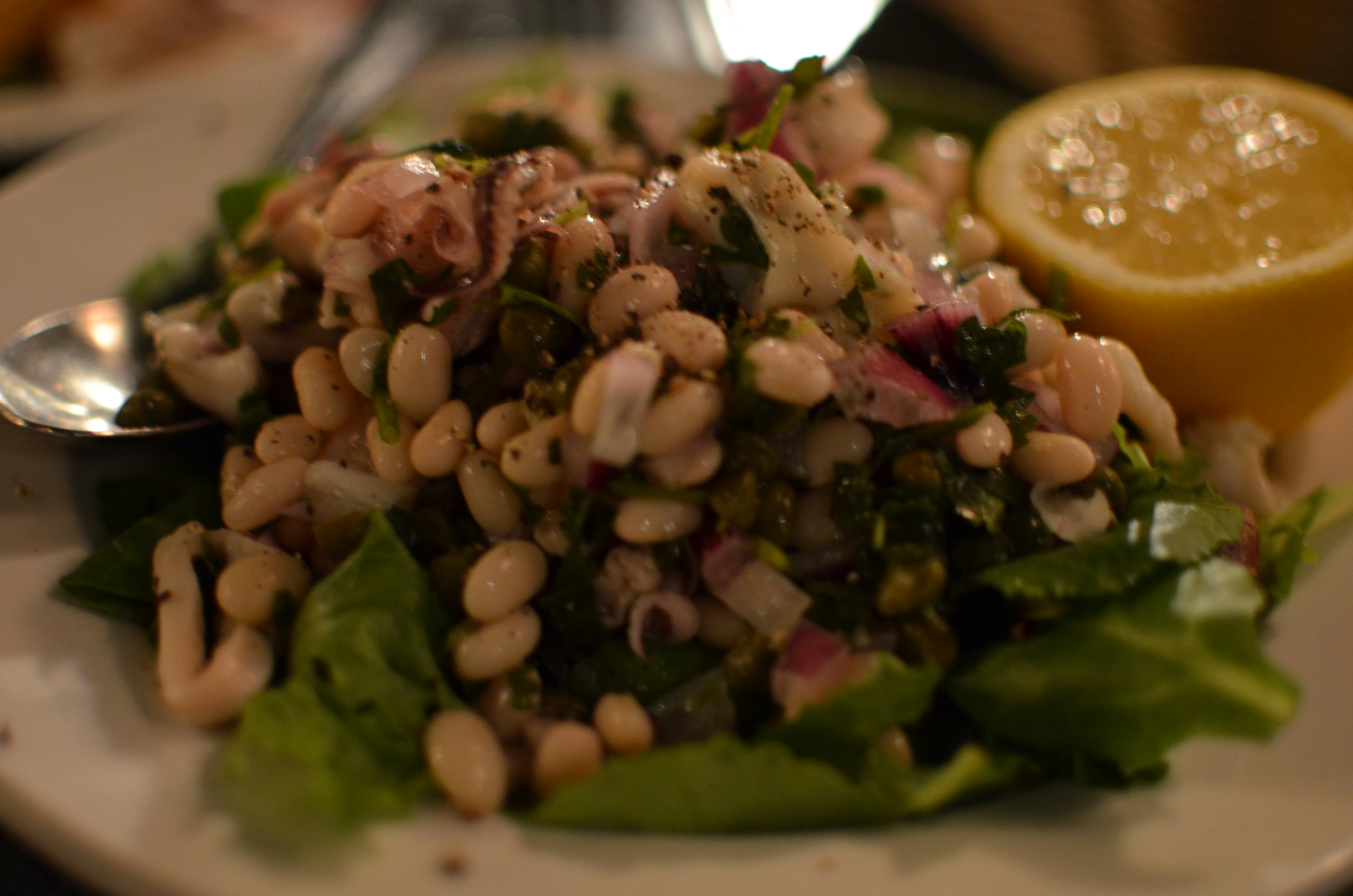 For our entree, we shared the gnocchi Bolognese. Our sever was kind enough to split the dish into two plates (restaurants don't do that anymore!). Despite the sharing of plates, the portion size of the gnocchi was impressive. Maybe it was the generous portion of sausage and beef that filled us up.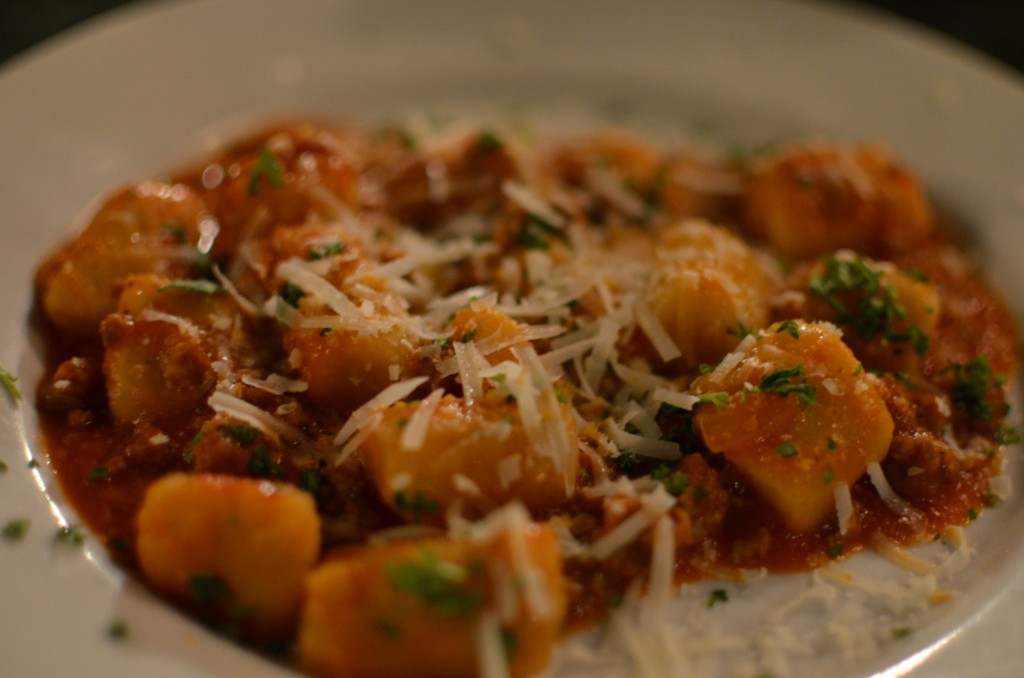 No dinner could be complete without hearing the dessert choices. The dessert menu, though limited, listed several traditional Italian desserts like tiramisiu and gelato. After much debate, we decided on the Spumoni gelato with pistachio. As with everything on the menu, the dessert was simple, but executed perfectly. Rather than gelato in a cup, it was served on thin cheesecake crust, which was very buttery and tender. It was then topped with a pistachio flavored ganache layer with candied pistachios on top. We were very impressed with how well the presentation complemented the simple ice cream. It was one of our favorite desserts.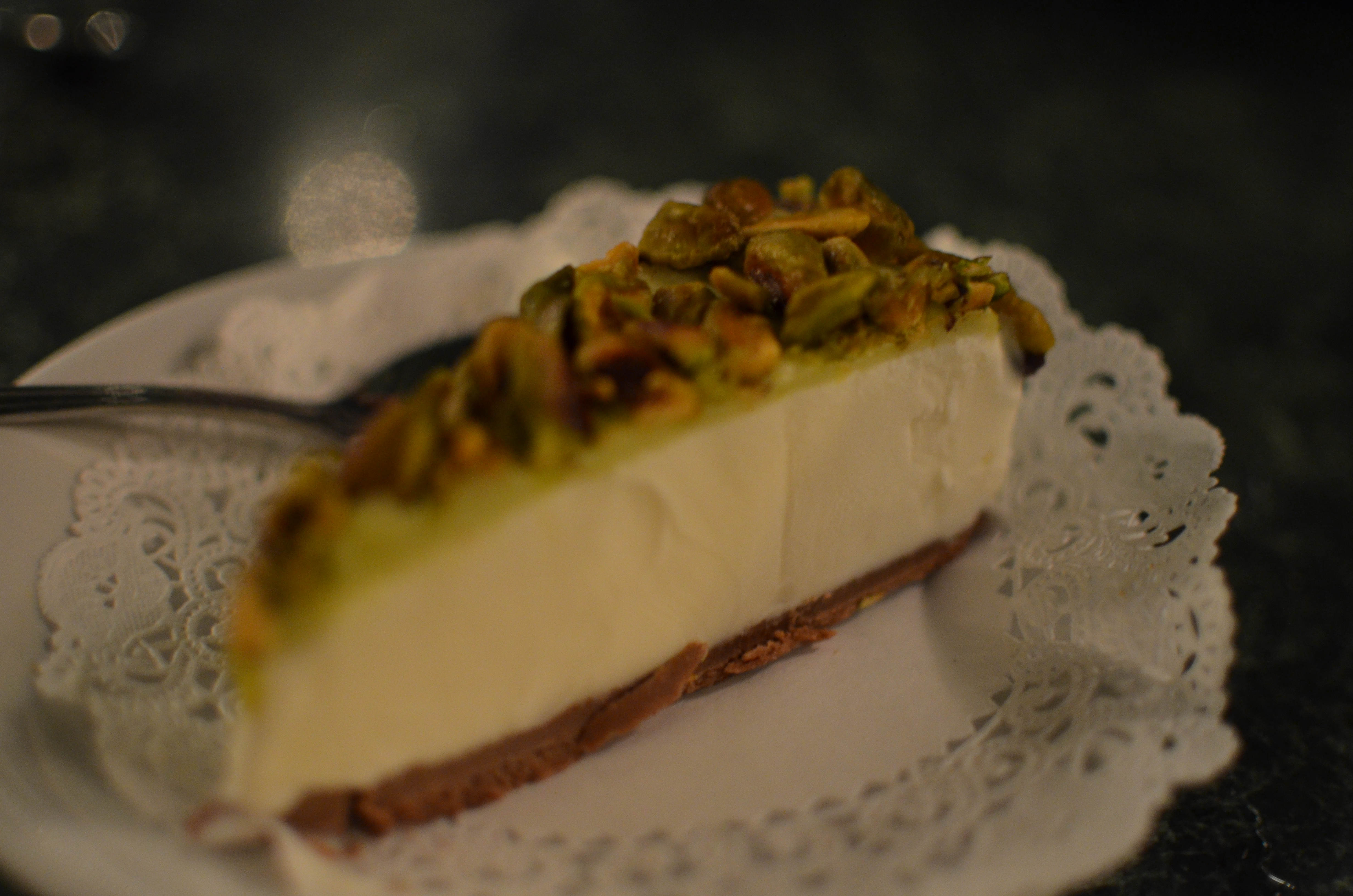 By the end, we were stuffed, satisfied and tired. Luckily, the hotel was just a walk downhill.
Our bag finally arrived the next morning, giving us just enough time to get fresh and dressed for our lunch date with my family friend and mother-to-be Tammy. We met and ventured to the famous Ferry Building where we were greeted with an abundance of choices for food. Similar to Grand Central Station in NYC, Reading Terminal in Philadelphia and Faneuill Hall in Boston, the Ferry Building was a center for (water) transportation and home to several specialty food vendors. Among the vendors were Ciao Bella gelato and sorbets, a charcuterie shop by Chris Santos called Boccalone, and the Hog Island Oyster Company with their selection of fresh shellfish. I was immediately drawn to the artisan cheeses from the Cowgirl Creamery. Cowgirl Creamery makes their own cheeses with organic milk, featuring seasonal cheeses that could compete with other creameries from Vermont and Wisconsin.
Aside from the artisanal blocks of cheese they offered, they also served grilled cheese. sandwiches, and macaroni and cheese at their sister shop, Sidekick. Who doesn't enjoy bread and melted cheese for lunch? Siddharth had a grilled cheese adorned with pancetta and Wagon Wheel cheese (a Cowgirl creamy cheese), and I actually ordered their macaroni and cheese and it was rich, so rich that I was glad they gave me half a pint size. It was a perfect lunch to catch up with family.
On another beautiful morning in San Francisco, I decided to follow in the tracks of one of my favorite shows on Food Network: "Best Thing I ever Ate."  I had recently stumbled upon a bacon episode, which led us to set out for the Mission Neighborhood for the bacon-topped and maple glazed donuts from Dynamo Donuts. The trip to Dynamo Donuts was quite a trek, involving a few miles of walking and catching a train. But walking through Mission was unforgettable. Mission is an area that was settled largely by the Europeans in the late 18th century and early 19th century. Now there is a large population of Mexican immigrants, but as with all of San Fran, there are many cultural influences. Each street was different from the other. Some streets were busy with grocery stores and popular restaurants, while other streets had local bakeries and hip coffee shops. The best part of the trip was viewing all the beautiful artwork and wall graffiti. The use of vibrant colors can really cheer up a city when the sun comes in and out and fog rolls around.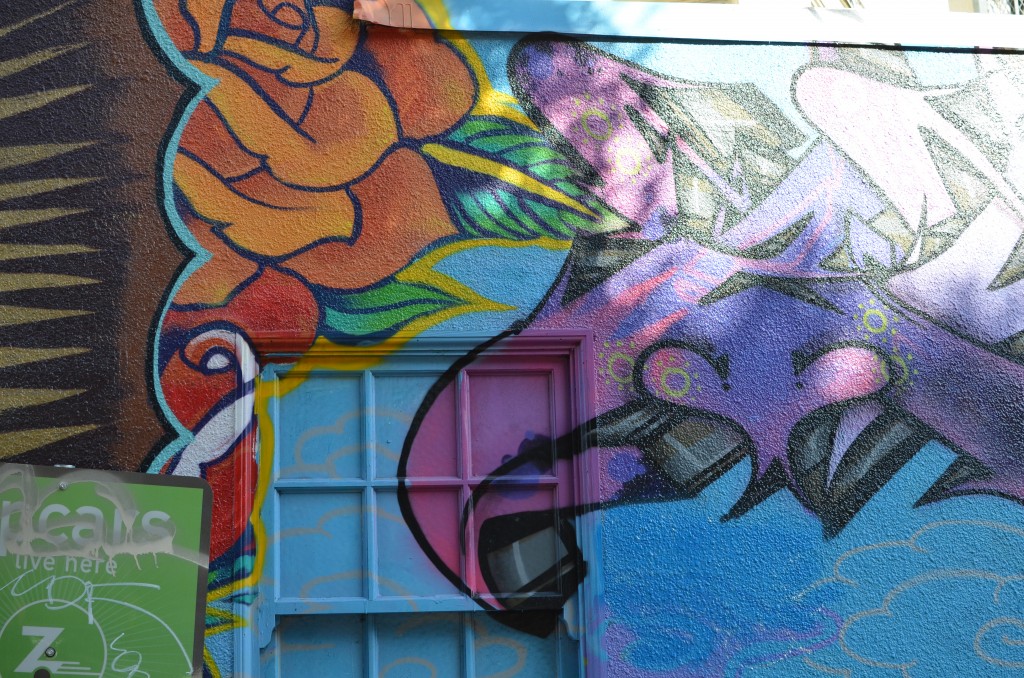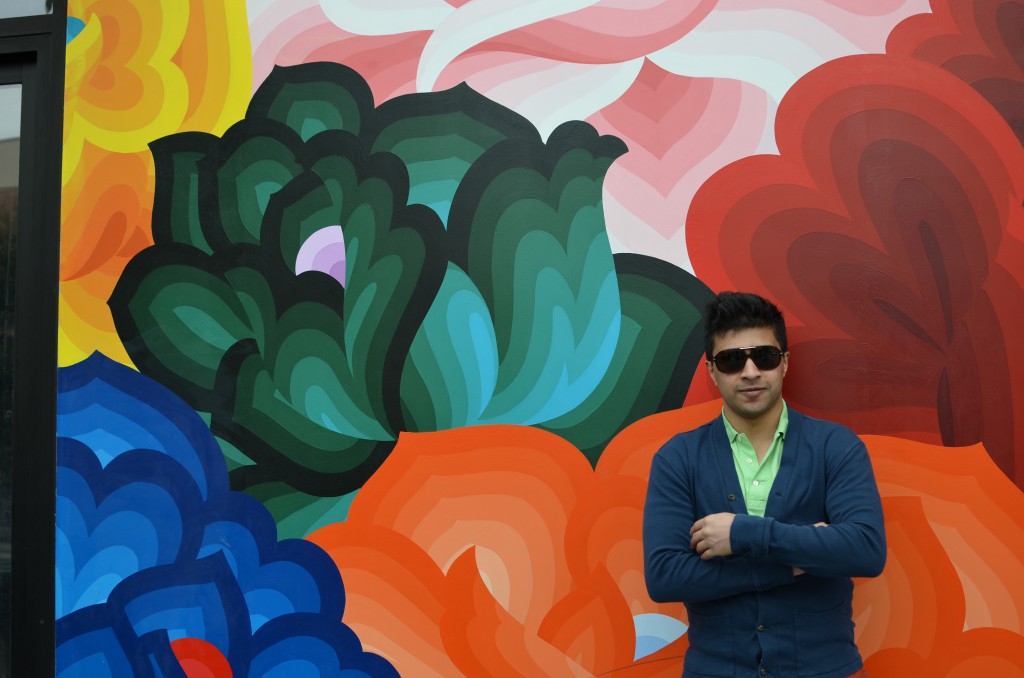 Dynamo Donuts might have been hard to spot on the street had it not been the long line of patrons ordering boxes of doughnuts. Juxtaposed between a tacqueria and a Mexican bakery, Dynamo Donuts had a simple counter and a small seating area in the garden in the back. Beside the bacon donuts, they had other interesting flavors like apricot cardamom, lemon Sichuan and chocolate star anise. They also served homemade dog treats! We tried the bacon doughnut (of course!), the chocolate rose and candied orange blossom. 3 donuts between 2 would surely do. The bacon doughnut was a classic yeast treat, while the other two were cake-based. You cannot beat that maple glazed bacon doughnut! These donuts made the perfect breakfast and we strongly suggest eating outside in their garden for some peace and quiet for you to enjoy that luscious doughnut.
We certainly enjoyed our time in Mission, and we actually visited several times (Siddharth has details about our trip to SF treasure Mission Chinese in his upcoming post!). Another place we thoroughly loved was Japantown. While it isn't as big (it's about 2 blocks long) or as touristy as Chinatown, it is certainly an area worth checking out if you have time. We actually walked from Mission to Japantown, and the gradual change in neighborhood scenery is striking. Japantown itself was highly decorated with Japanese architecture, landscape and cherry blossoms. Staying true to the Japanese mentality, everything was simple yet gorgeous. All the trees and flowers were well manicured and in full bloom. Pictures don't do it justice.
Japantown is centered around a small shopping mall. In the mall we enthusiastically browsed a large store that sells imported glassware, dinnerware, towels…basically a Japanese Target! Outside of the mall, we found a building with upscale boutiques selling Japanese clothes (ultra-modern, not kimonos!) and an interesting game-room, called Real Escape. Literally, it's a game based on a room where people are trapped in and must use all the supplies that are provided in the room to get out. Quite an intriguing concept! Maybe we'll try that next time…
On this occasion, it was an English tea shop on the ground floor sparked our interest even more. Proudly named Crown & Crumpet, this tea room was something else. This is definitely for the girlie-girl. I'll be honest, the flowery decorations and tableware were over the top at first, but once you get in the spirit, the pink tea cups, pink sugar and gold-rimmed plates grow on you. Once you entered the tea room, your mood can suddenly brighten because of the brightness of the room and the colorful wall decorated with words of "Keep calm and carry on" and cutesy drawings. The wait staff all wore beautiful aprons and attire, all they were missing were those white gloves.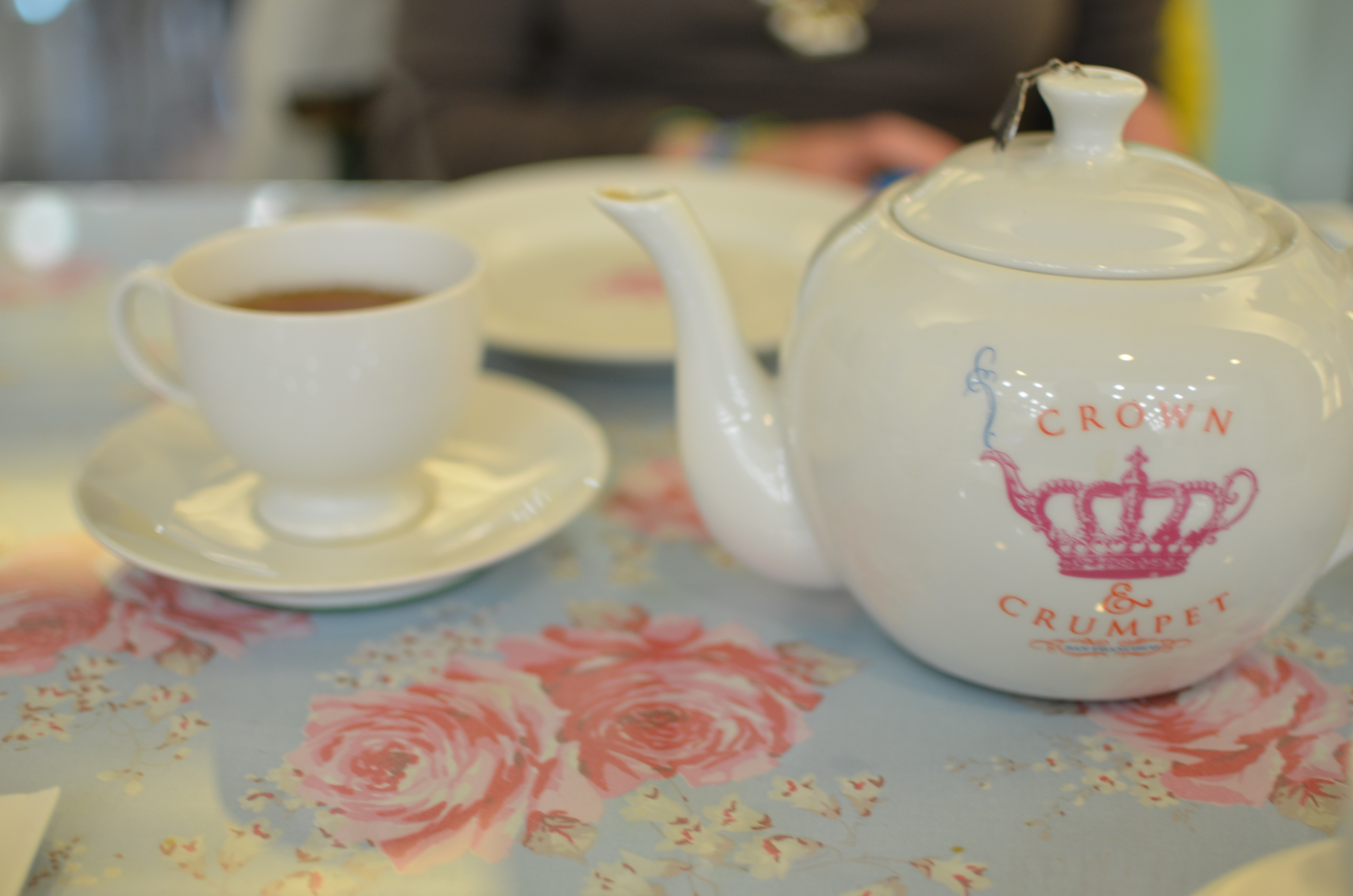 We ordered tea for two which was actually a lot for both of us. They offered English tea classics like Assam, Ceylon, and Darjeeling, in addition to non-traditional choices like matcha. We decided to go for blends, as we were both in the mood for sweet and light on this warm afternoon. They had custom blends with aromatics like rose and fruits. The assortment tray of mini sandwiches (yes, cucumber mint and tuna salads were there) and little pastries were all homemade and scrumptious. But the best part was their warm crumpet (a hybrid of an English muffin and a pancake) and scones accompanied by clotted cream and berry preserves.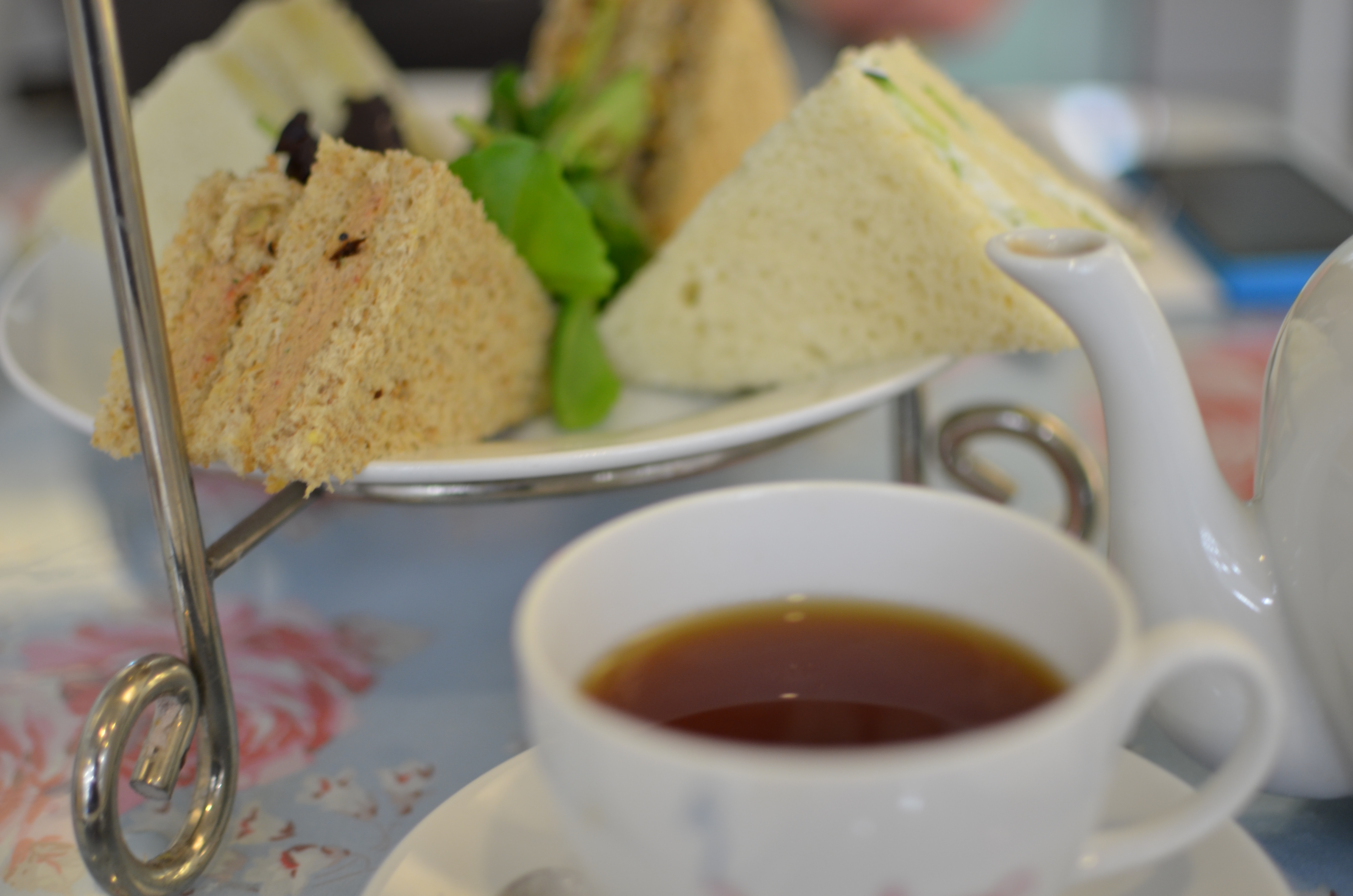 Everything in the tea room was part of the cute/girlie theme and was always tied with a bow. When we couldn't finish our tea set, they offered to box it up nicely for us with a decorative box. Siddharth and I enjoyed this very much and we felt it properly replaced our missed-opportunity when we were in London several years ago. And men should not feel threatened by this – there were several patrons that accompanied friends and their girlfriends too!
It felt like a scene from a dream and the atmosphere provided this playful but mature environment that it was very difficult to leave. It was probably one of the best experiences we had in SF. It simply catapulted me into a world of childhood innocence and imagination.
Continuing our walk through Japantown, we now headed off in search of some real Japanese treats. Fresh manju and mochi? Yes please. Manju and mochi (or daifuku) are traditional desserts made of glutinous rice and filled with various fillings like red bean, mung bean, green tea paste, and even peanut butter. I found Benkyodo while perusing Chowhound for places for the best dessert. It is a small shop situated between the two malls. There was a long line outside of the family-run shop, with several patrons ordering 3 or more manjus at a time. We were lucky enough to sample some of their flavors like habutai, their white mochi with red beans and green mochi with red beans. Besides manju and mochi, they had other desserts like Japanese pancakes and sweet rice. Just be sure to order efficiently because of the long lines. We encountered a surly owner when we asked too many questions!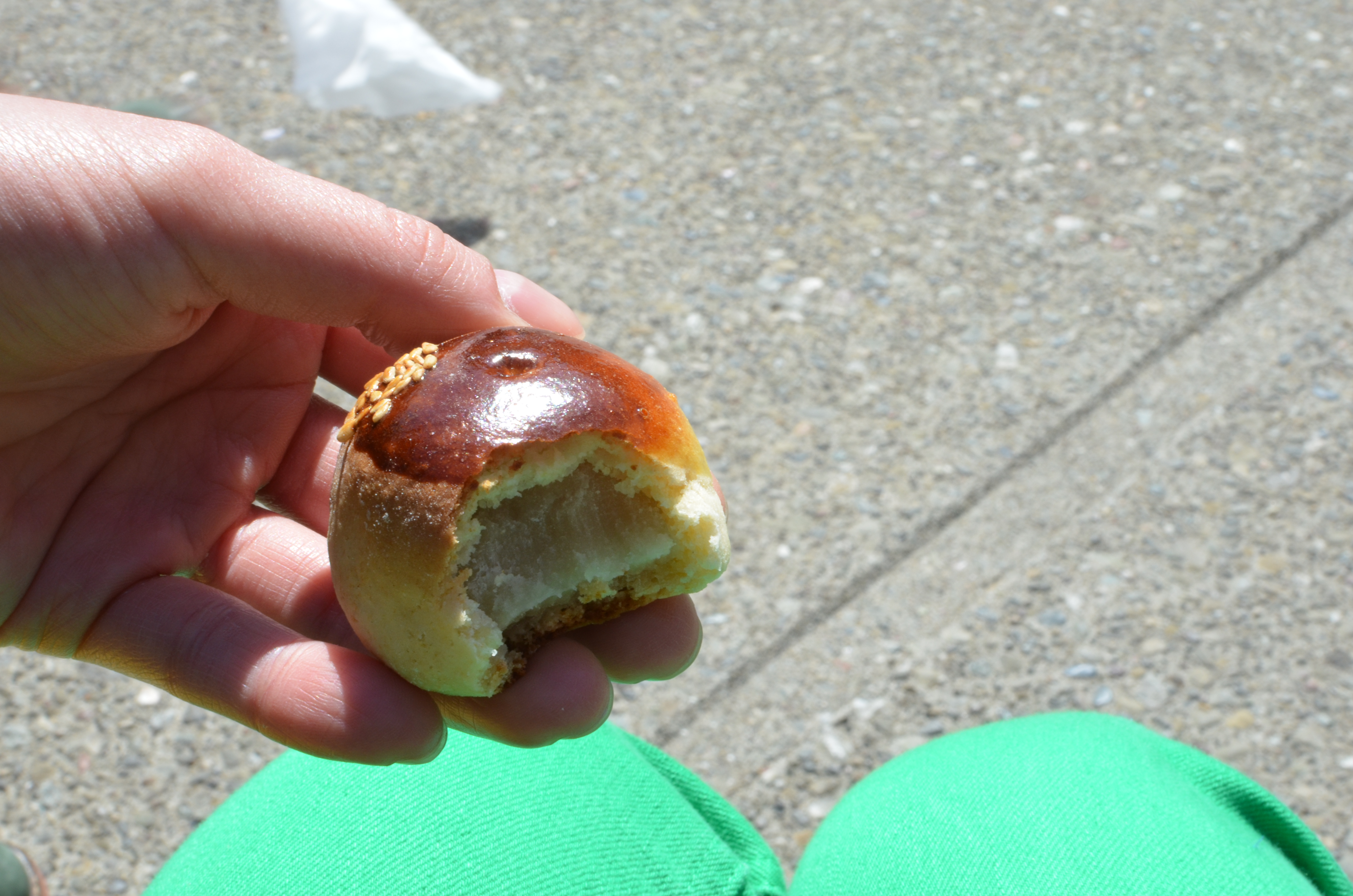 San Fran gives the chance to experience all kinds of things. I've shown you doughnuts, manju, and rustic Italian. Another passion: we are all about interesting cocktails. We've read from fellow bloggers that The Alembic was the place for finding some. Situated in the ultra-hipster neighborhood of Haight-Ashbury, The Alembic required a crosstown bus that traveled far west of the Financial district.
The menu featured a vast array of drinks and imported spirits that you may not find in typical bars. We arrived around 9 on a weeknight and seating at the bar was already nearly filled, but we were able to get two seats tucked away in the corner of the bar. The bartenders were extremely nice and informative. We wanted some dessert and they not only recommended their carmelized brioche with Earl Grey ice cream (delicious) but they also introduced  us to some Italian bitters (Amari) that complemented our dessert so well that we've been trying to find a liquor distributor that has them back in Philly.
Unfortunately the lighting was awful so we couldn't take any photographic memories!
We were able to find amazing cocktails at another place however:
It was Easter Sunday, and our trip was coming to an end. We were lucky to get a reservation at Wayfare Tavern for lunch as part of our final meal countdown. Wayfare Tavern is the property of famed TV personality Tyler Florence. We started with the aforementioned cocktails, and knew we had picked a winner.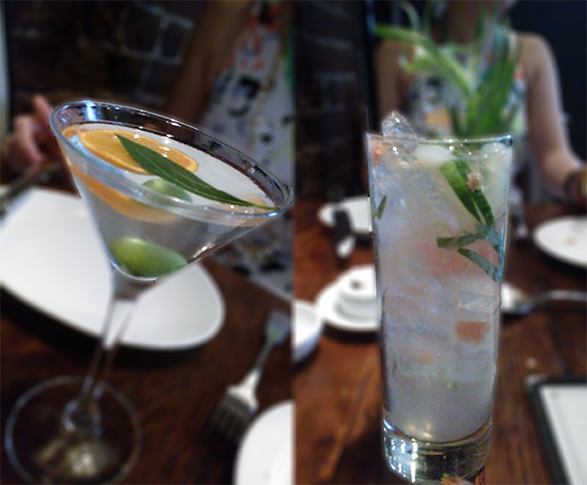 Above on the left you can see the Wayfare's original take on a dirty martini. Among other things, it was infused with a blood orange, and was truly delicious. On the right is the "Gin & Jellies." The jellies were housemade, lychee and grapefruit flavored. The drink was sparkly and infused with tarragon. Very tasty!
Beyond drinks, Tyler and his crew know how to make you feel welcomed with their unlimited warm popovers on your bread plate (my first time having a popover – I think I'm addicted)! Everything was well thought out. The lunch menu featured a lot of California ingredients like fresh dungeness crab, grass fed beef from local farms. His most popular dish is his fried chicken with a buttermilk brine. I ordered the Dungeness Crab Louie, a simple salad wedge with chunks of crab meat and bacon. Siddharth ordered Florence's Le Grand burger with smoked bacon and brie which appeared to be a mountain on his plate. Although it's difficult to really make a burger more perfect than it already is, this burger was definitely grand.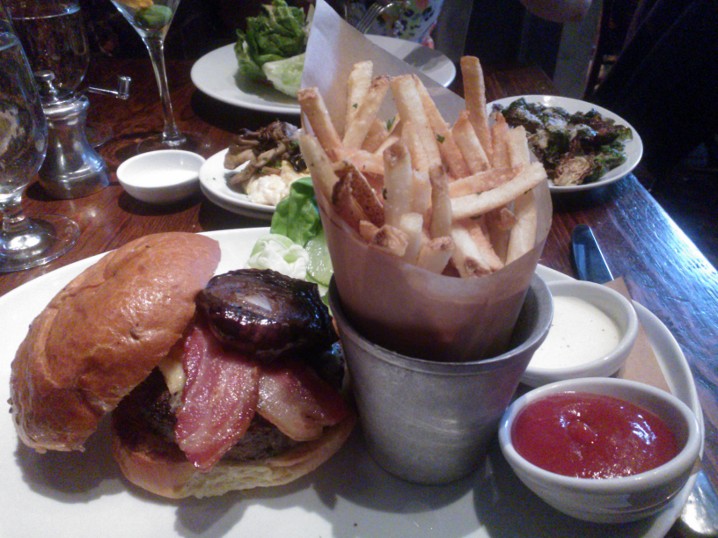 Tyler had really put some thought into his dessert menu, introducing so many elements you would not find at a bistro like Sticky Toffee Pudding with California medjool dates, peppercorn ice cream, and wood sorrel. Or his coconut panna cotta with chai ice, coconut candy, mango pearls, lemongrass and mint. We settled on his special dessert that contained so much citrus, we started puckering our lips (in a good way!). The dessert was impressive and beautifully presented. There was the lime panna cotta cake with a grapefuit sorbet and some kind of orange dumpling. The plate was decorated with fruit gels and marshmallow-like droplets. Spectacular!

What a memorable trip! It was really fun to write this up, as I had a chance to remember just how great the food and city were. Be sure to check back for part II, where Siddharth will share some of his favorites!