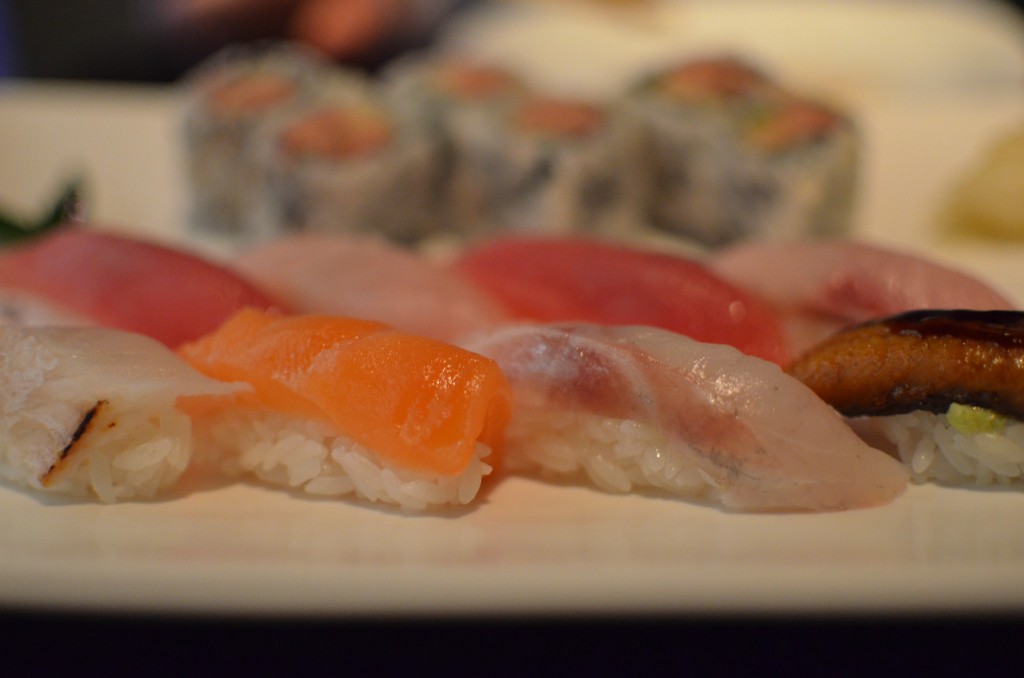 Bluefin
2820 Dekalb Pike
East Norriton PA 19401
610-277-3917
Moving from Malvern to Blue Bell has its perks – notably, a whole new batch of restaurants that we have yet to explore. Siddharth stumbled upon Bluefin while running a couple of errands. Located in the Northtowne Plaza in East Norriton (at the intersection of Dekalb and Germantown), Bluefin is not necessarily in a spot that would be expected to have great sushi. We did find some favorable comments on Bluefin on Chowhound (best site for reviews from people that are in the know!), so we went in hoping for the best.
Bluefin has actually just recently (sometime in 2012?) relocated to East Norriton from Plymouth Meeting. Without making reservations, we arrived just after 5pm when it opened for dinner, and already, the sushi bar and the tables were 75% full. We were pretty lucky to earn a table for two, but we unfortunately missed out on the chance to eat at the sushi bar (we always recommend the sushi bar, as in addition to watching the sushi artistry, you often get good conversation and free samples from the chefs).
Especially given the location (surrounded by a Big Lots, cheap Chinese restaurant and other strip mall stores), the restaurant was immaculate and modernly furnished. The sushi bar was large (more than 5 sushi chefs) and was made the central focus of the decor, and the tables were nicely lit, contrasting the dim lighting surroundings. There were mixtures of tables and booths for larger parties.
We were immediately greeted by a friendly hostess, taken to our tables, and given bound menus featuring a full dinner menu beyond the sushi options. Their specials were quite extensive, and were presented as a separate menu. It seems that the daily specials change each day, and when we went we saw interesting appetizers like octopus carpaccio (Tako Carpaccio) and a toro sashimi platter. We started with their oyster tempura (a weekend special). The fried oysters were served in their shells and drizzled with a yuzu-flavored glaze (yuzu is a Japanese citrus fruit that tastes like sour grapefruit and smells like a Mandarin orange). The dish was presented simply on a bed of salt, minimal clean. The batter was crunchy and not too thick, allowing us to also enjoy the texture and taste of the fresh oyster. We were tempted to order another plate of 4, but we wanted to preserve our appetites!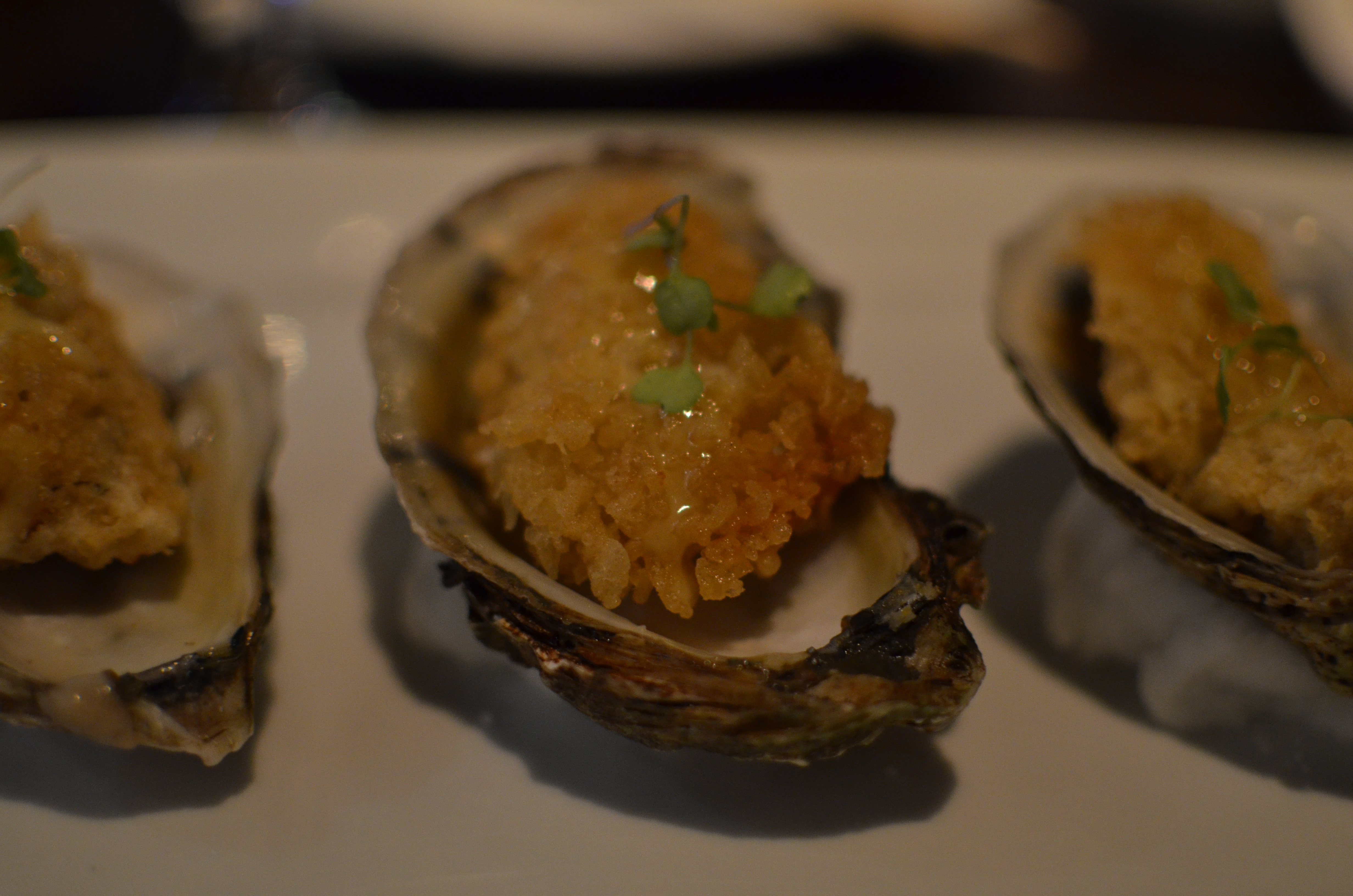 We had read several comments raving about Bluefin's miso baked eggplant, so we had to try it. When it arrived, we were treated to a striking presentation. The eggplant was sliced in half, completely and uniformly glazed with miso, and simply decorated with sesame seeds. The miso paste on top was thick and sticky and sweet, and the sesame seeds were well toasted, giving it a  contrasting nutty note. The eggplant was cooked thoroughly (many restaurants serve eggplant "al dente,", which we find to be unpalatable), and the skin was crispy, but the flesh was warm and gooey.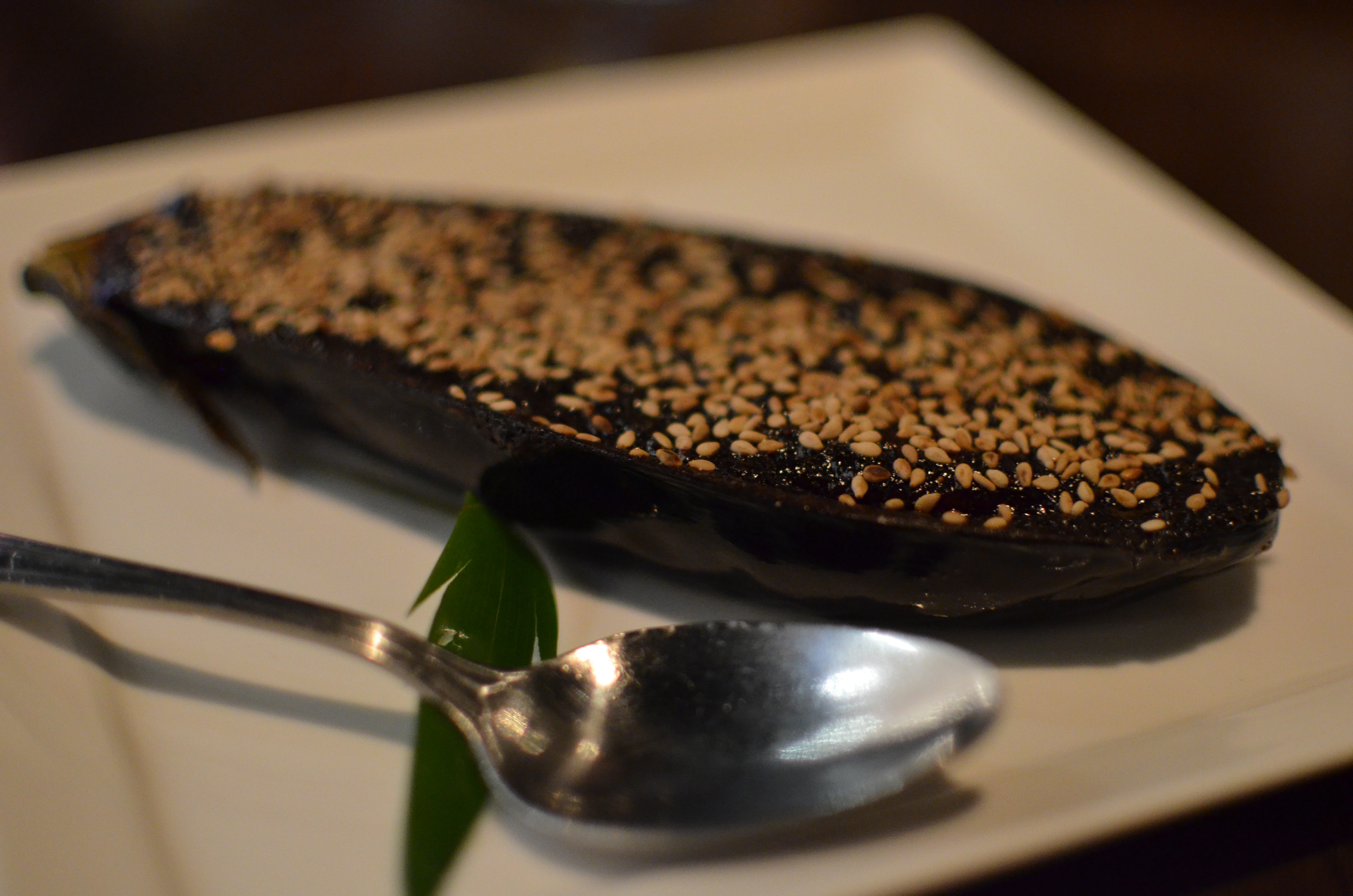 For dinner, we shared their sushi dinner (8 pieces total + a spicy tuna roll), the spider roll (fried soft shell crab) and the Ai Maki roll. Ai maki was grilled eel on top of a crunchy spicy tuna roll with several colors of fish roe. The sushi was fresh and nicely presented. Unlike other restaurants, Bluefin decided to skip the obligatory shrimp and mysterious white fish sushi – who really likes those anyway? Instead, we were given fresh salmon, tuna, yellow tail, eel, mackerel and snapper. The sushi chefs decided to use wasabi to adhere the the fish to the rice, and their wasabi packed a nice pungent punch.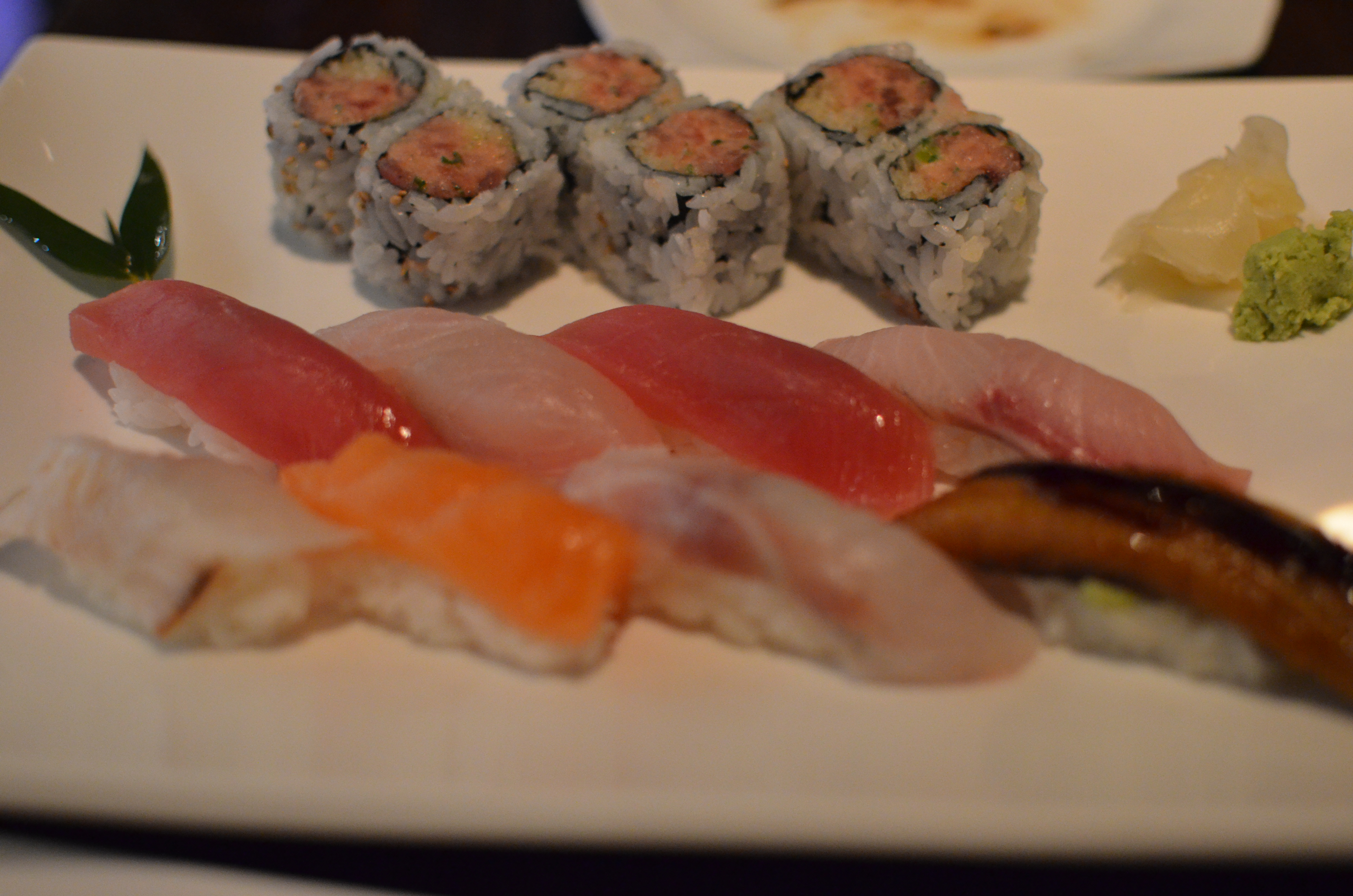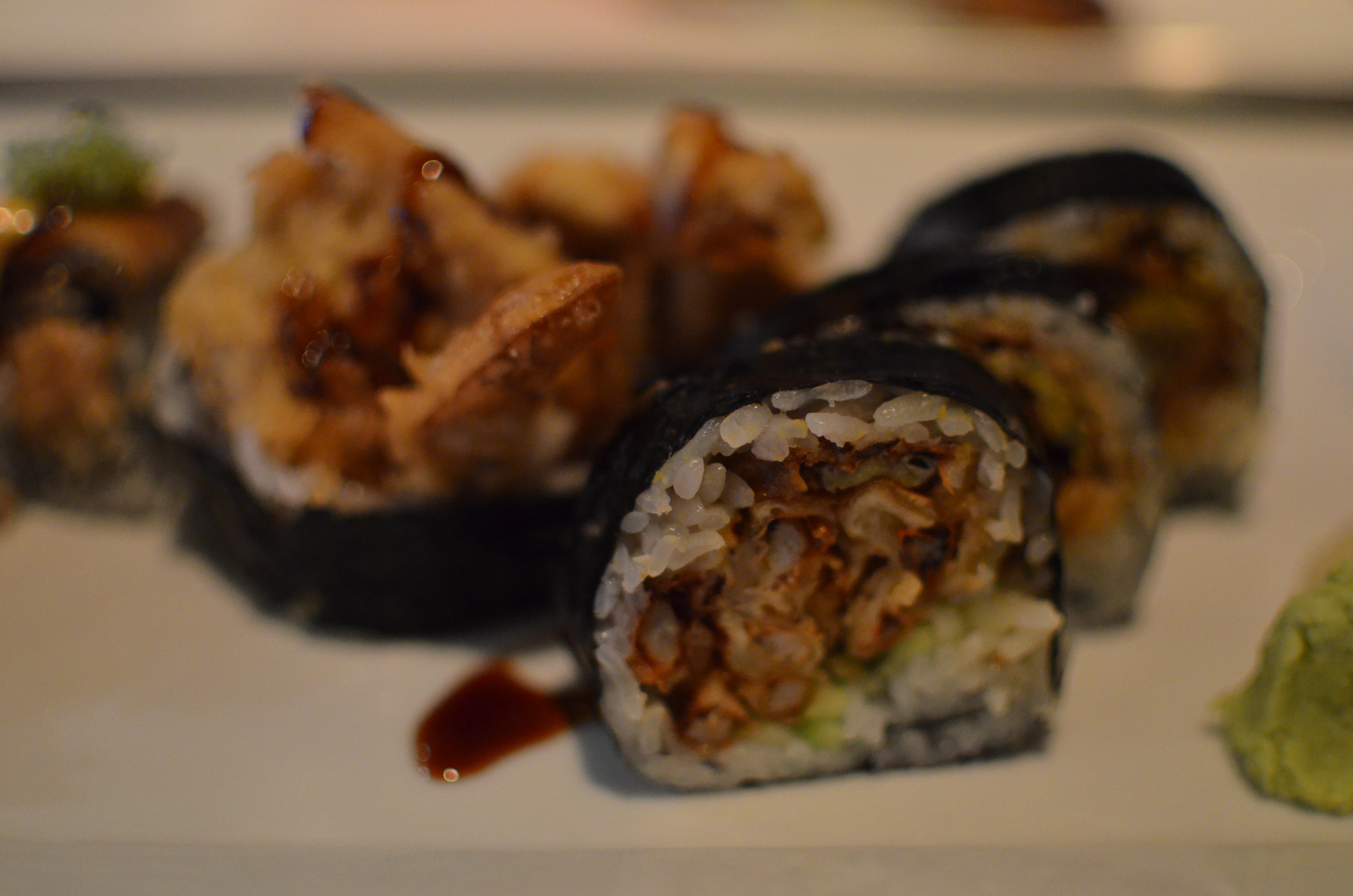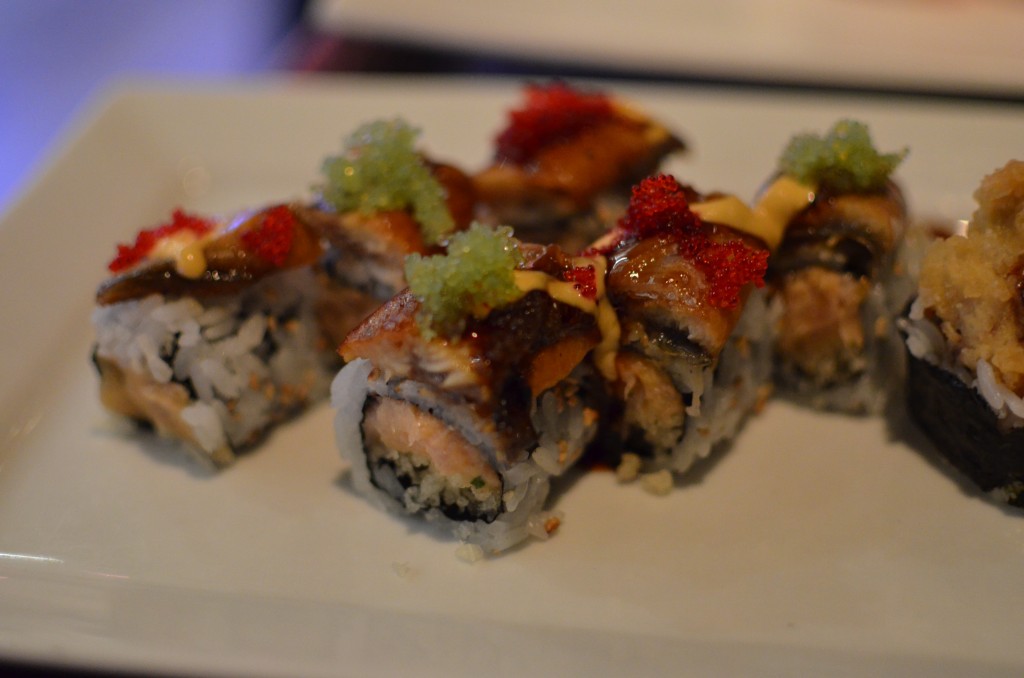 Portion sizes were sufficient, and we were able to leave fully satisfied (sometimes a worry with sushi places!). If you are in the area, Bluefin is a good choice for Sushi, allowing you to skip the drive all the way to Philly just to get good raw fish.
Taste:
Tricia: 9/10 (excellent)
Who doesn't like fresh fish? I have been to several sushi restaurants that don't let their frozen fish thaw out before serving. But the sushi chefs did a nice job with their fish.
Siddharth: 8/10 (great)
The fish was extraordinarily fresh. As good as most of the good places you can find in Philly or other big cities. The tuna was some of the best I have had in recent memory. The sushi rice was only average – it was cooked well and served at the right temperature (often a place of misstep for average sushi joints), but there was not much attention paid to the use of sushi rice vinegar (I'm actually not sure they used any). This meant good, but not exemplary sushi. The rolls were very good – not loaded with sauces or spicy mayonnaise, but very flavorful and well balanced.
Selection:
Tricia: 7/10 (good)
The specials menu was more interesting than the actual menu. There weren't that many interesting rolls but I think it's because Bluefin wanted to promote their entrees and special appetizers. A lot of the appetizers had lobster and scallops which sounded delicious – unfortunately I can no longer eat lobster due to allergies.
Siddharth: 9/10 (excellent)
Bluefin has a really nice selection of entrees, and as Tricia pointed out they incorporate a lot of lobster. They also have some fusion dishes, including pasta items even. The selection of rolls is average, but the focus is on fish, not gimmicks to make average fish taste good (so more of a true sushi restaurant that specializes in nigiri and sashimi than maki). Bluefin features many sashimi items you won't find in the majority of sushi places, including scallop and lobster, but also o toro (fatty tuna), and chu toro (medium fatty tuna). These are the most sought after types of fish for sushi, and it's quite remarkable that a small town restaurant has them on the daily menu.
Ambiance:Type: Upscale/Date Spot

Tricia: 9/10 (excellent)
The restaurant felt big and not loud only with the occasionally hear the sushi chefs greeting all of their guests. Great restaurant for a casual date or with your family.
Siddharth: 9/10 (excellent)
Good decor and spacious. Fills up quickly, but is not overly loud. Dark and intimate enough for a date, but also would accommodate a larger celebration. It strikes the proper balance of not too fancy or casual, providing a nice atmosphere for its small-town location.
Service:
Tricia: 8/10 (great)
None of the waiters were assigned to specific tables, but we always were able to flag down a waiter if we wanted our tea refilled. But our food came out at perfect times.
Siddharth: 9/10 (excellent)
The waitstaff was extremely efficient. As Tricia mentioned, all of the waiters pitched in for all tables, and this ensured filled drinks. Food was also brought in proper intervals, allowing us time to finish each course, but not making us wait too long in between courses. The staff was also very personable.
Price: $$$ (above average)
Tricia:
2 appetizers, 2 rolls and a sushi dinner, we were looking at $35 per person for everything. Price was perfect given the quality of fish we were given.
Siddharth:
You are always going to pay a bit for sushi, so although we gave this $$$, it is quite average compared to other similar restaurants. Given the quality of the fish, I think Bluefin was a great value. Fat Salmon or Pod, premier sushi joints in Philly, are significantly more expensive.
Recommendation Index: 10/10 (MUST go!)
We highly recommend this restaurant for anyone in the area. Also, Bluefin is a great choice for anyone outside of Philly looking for good sushi beyond the city limits. The ambiance was enjoyable and the food was great. For dinner for two, we would recommend sitting at the sushi bar and skipping the private tables, because the sushi chefs really do give special attention to their customers. Don't forget to bring your own sake!